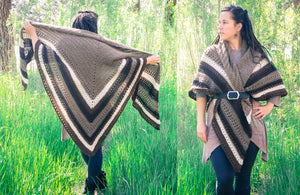 The "Outlander" Shawl
   Just to be honest, I haven't seen Outlander yet, but this TV show inspired shawl was a special request from a friend of the family. With a little creative freedom, I choose my favorite earth toned yarns and went big! I used a basic triangle shawl pattern in double crochet. This is fundamentally a one row repeat pattern, with the exception that I mixed in a few rows of X stitches, or criss cross stitches, to give it a little texture and some small eyelets. The shawl is over 50" long but the top edge can be folded over for an extra thick collar look, which then shortens the total length as well. It's really cozy, can be worn over just about anything. Style with a belt too for the full Outlander look.   
If you would like a custom shawl please feel free to send me a message on the contact page. Custom shawls starting at $240 with a 3-4 week turnaround. 
---
1 comment