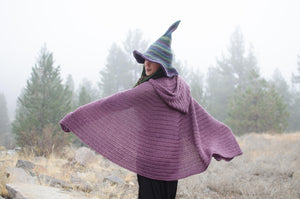 The Crafty Witch
Playing off of lasts years costume as Little Red Riding hood, I wanted to make another hooded cloak, but also nail down the pattern while incorporating it into another costume idea. The Crafty Witch feels more like an alter ego than a costume honestly, as crochet art has always seemed a bit like witchcraft to me as I create items out of thin air. The hooded cloak written pattern is now published and featured in a two part video on the Crochet with illJay YouTube channel: 
Part1: The Tutorial:  https://www.youtube.com/watch?v=mcS3INnR-G8&t=0s
Part 2: The Final Details :  https://www.youtube.com/watch?v=neawo0vHp20&t=1s
Although the cloak is the feature point of the video, we can't ignore that the hat is really what is pulling this identity together for Halloween. It's kinda of ironic how I can spend 2 months planning a cloak, writing the pattern, making a tutorial, and  crocheting the entire thing, when the hat on the other hand was done in 2 days completely free handed no planning and it's equally fantastic. 
The written pattern for the cloak is now available in my shop: https://illjay.com/collections/patterns/products/pdf-pattern-the-hooded-cloak
Happy Halloween!
---