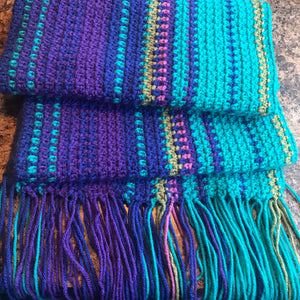 The 2020 Temperature Blanket Begins
1/1/21 EDIT: The blanket it complete!  https://youtu.be/48EN7D64KxA
Right around the new year crocheters are talking about starting or finishing their "temperature blanket". I just learned what this is and I'm excited to start one for the year 2020.  Everyday for a year, a row is crocheted based on the outside high temperature with whatever color you designated for that temp range. 365 days, 365 rows to finish a big rainbow blanket with a unique and meaningful pattern. I will be using the moss stitch for this project because it is dense and won't be 12 feet long by the time its December. 
Here are the temp ranges with the colors I chose:
I will be recording the highest recorded temp for Truckee, California everyday for the year 2020.  I may have to toss in some kind of magenta for any days that don't break 20 degrees or even reach 100. We will see as time and temperature unfold.
Here was 10 days into the blanket:
And here again after a month. We hit 60 degrees on January 31st!
 Here is the 3 months progress, Jan-March:
Four month progress:
6 month update:  https://youtu.be/EaR9E4_CaS4
Memorial Day- Labor Day:
September/October:
Stay tuned for the finished blanket!!!
---
3 comments