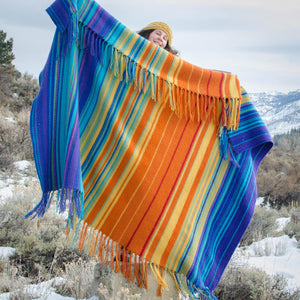 The 2020 Temperature Blanket
Congratulations! If you are reading this, you have survived the year 2020. This new year is especially exciting as it means I have completed my first ever crochet temperature blanket. It was last New Years that I heard about temperature blankets and was so inspired to start one immediately for what felt like would be an iconic year. 
There are many ways to do a temperature blanket but this is the way I did mine. I picked the daily high temperature because it is a consistent and exact recorded number. I tried at first to do the average temperature, but that proved to be too complicated as the temperature here can drop 40+ degrees some nights and depending on how often recordings were taken and how one calculates an average, there were just too many variables. 
I picked out these 8 colors for high temps ranging from 20-99. I suppose I would have had to gone back for another color if my prediction wasn't right. 
For the yarn I picked a worsted weight acrylic. It made the most sense to get something I knew would be consistent and readily available if I needed more. 
365 rows/ days a year
300 stitches across
Rows of moss stitch (sc1, ch1) back and forth. 
Size 4mm hook
60"x 80" 
Always make a swatch before making a project, especially for a temperature blanket so you can calculate how big it will be after 365 rows. However, if you are like me and have an inconsistent gauge this can be tricky! My blanket ended up a bit smaller than I had calculated, and small errors in gauge or measurement are more emphasized in bigger projects. 
Here are a few progress photos from over the past 12 months.
 I gave the blanket fringe, not just for decoration, but there was no way I was going to weave in 2 ends per day, that would be 730 ends.  So I left a long tail when I started a row, and left a long tail when I ended a row. Hello fringe :) That is my secret when using multiple colors. Cheers!
Find me on YouTube: https://youtu.be/48EN7D64KxA
---
3 comments