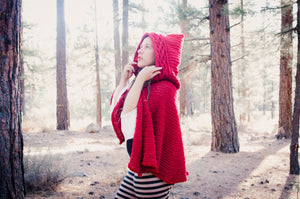 Little Red Crochet Riding Hood
Halloween 2020 is here! And no virus is getting in the way of me making another costume and dressing up on the one day it is socially acceptable. I start planning my costume months in advance, because I make it from scratch and it takes a lot of time. You could say I've been brainstorming this one for years, but felt like this year especially was the right one for the red cape because whatever I end up doing will surely be outside in the cold since indoor gatherings have been off limits pretty much all year. 
Little red riding hood, a classic. Crochet cape, totally unique! I designed the cape from scratch, and it incorporates both knit and crochet stitching. The detail on the hood is some intense cable knitting, this part alone took 6-7 hours because I had to make 3 swatches and started over a few times to get it perfect. The rest of the hood and entire cape is crocheted and actually very easy. I plan to write out a simplified crochet pattern including kids size in time for next halloween, or sooner if there is interest in red capes besides on halloween. 
Making costumes is a lot of fun, but also a lot of work and time. Of course once it's done, taking photos is half the fun. I go into the woods and set up my camera on a tripod and take a few test shots. Then set it to self timer and jump into character on scene. This is quite the process as well but I really enjoy playing all the roles of creator, director, photographer, and model. Halloween is the best and I never turn down an opportunity to get creative and dressed up! 
---