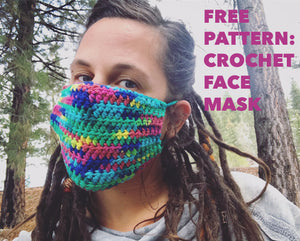 Crochet Face Mask, Free Pattern
   It's been a weird couple of weeks with this pandemic going on. The CDC is now recommending that everyone wears a face mask in public to help minimize the spread of covid-19. As much as I've avoided this band wagon, it suddenly seems like a bad time to waste a skill when I could be helping people. I started making crochet face masks and am offering my pattern for free, written below. 
You can also follow along on my youtube tutorial: 
Please note: Wearing a mask will not prevent you from getting the virus, nor it is intended for medical use. It designed to help stop the spread by covering your mouth and also helps you to not touch your face.  Made with 100% cotton and has space between layers for another filter. 
 ch.50 turn work (TW)
skp 1st ch, sc25, ch1, TW
*sc5, hdc15, sc5, ch1, TW *repeat for 14 rows
sc25, ch25
Your chain ends should be on opposite corners. weave in and tie off both ends to create the ear hooks.
Next, we will make the filter using cotton fabric.  I'm using a flannel pillow case. 
Trace your face mask either directly to your fabric, or onto paper first and cut it out and then use as template. Your fabric cut out should be the size of the mask. We will fold in 1/4" on each side and sew a seam.  You can sew all sides to your work, or just sew the long sides, and leave the short ends open for adding another filter.  You can use a sewing machine for sew by hand. 
Stay safe out there!
---