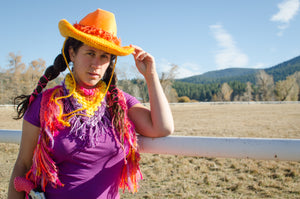 Crochet Cowgirl
Howdy Y'all
Here's what I've been slowly but diligently creating since September. In preparation for my favorite holiday, I bring you The Crochet Cowgirl, yehaww! 
About mid August is when I start contemplating my Halloween Costume. I was having a minor creative block and asked my friend Bai what I could crochet that would be ridiculous and over the top. Her response "ass-less chaps" quickly inspired this entire costume with all the crochet details. Complete with fringe on everything, including ass-less chaps, vest, bandana, hat, and yarn detailed gun. 
Half the fun of creating costumes for me is the photoshoot.  I love photography and setting up a shoot with a tripod and self timer to fully capture my vision is essential to conveying the concept and documenting my work. 
Enjoy this treat Ya'll,
Happy Halloween!
illjay
---
1 comment